The pandemic has reshaped the work environment in unprecedented ways, forcing organizations to adapt to a new way of working. The UConn Library is no different. Since March of 2020 we have shifted access to collections, increased online outreach, created new programming, and found new ways of working with each other and our communities. We have also seen an incredible shift in staffing. We have been fortunate enough to welcome several new staff members, said good luck to others moving to other institutions, wished many a happy retirement, and said goodbye to a dear colleague. In the second of this three part series, we will look at the shifts in staffing and service to our areas of work and hope you will join us celebrating the people, past and present, of the UConn Library. If you missed the first post, it was regarding our Library Administration area.
Collections & Discovery
Connecting you to the world of resources is at the heart of what our Collections & Discovery area does. The units within the area focus on digital imaging, conservation, collections acquisitions and discovery, and building our archives and special collections.
In September 2020 we were fortunate enough to hire Roxanne Peck to lead the area as Associate University Librarian for Collections & Discovery. Roxanne has over 25 years of experience in academic libraries and came to us from the University of California San Diego where she was the program director for the Content Acquisition and Resource Sharing (CARS) Department. Roxanne's talents served the Library well for the year and a half she worked for the Library, including helping us lead the forward progress on the Future of Journals Project and the significant challenge of finding and implementing a more sustainable model for providing access to resources. Roxanne will be leaving in July to become the Assistant Director of the Hoover Institution Library and Archives.
Other staff changes in the area include the retirement of Fred Rick in July 2020. Fred began at the UConn Library in 1985 after coming to UConn as a graduate student in Political Science. In the 34 years Fred worked for the Library, he worked at the same desk (lovingly dubbed Old Sturbridge Village by Fred himself), ensuring our physical materials were properly cared for, labeled, and bound. So if you ever found a book on the shelves, you can thank Rick.
The maintenance of our physical collections did not stay static long. This past January 2022, we were fortunate to add Ellen Pikora to our team. Ellen has a Bachelor's degree in Business Administration and Cultural Anthropology from the University of Pittsburgh, and was both a library assistant at the Cromwell Belden Library and the Manchester Public Library when she was hired.
The building of our collections, both physical and digital, is an important piece of this area's goals, and at the heart of Michael Rodriguez's work. Michal began his career at the UConn Library as Electronic Resources Librarian in February 2016. Michael led transformative initiatives at UConn and was equally active in local, regional, and national levels. The Library promoted Michael in 2019 to a newly created position, Collections Strategist. In that role he led efforts to make our scholarly resources more responsive to changing budgets and user needs, elevate the impact and diversity of our collections, and deepen our partnership with regional and national initiatives. Michael was also recently highlighted in UConn Today for his work on writing scores of Wikipedia articles, bringing long overdue attention to women, African Americans, and other historical figures in UConn and Connecticut history. Michael left the UConn Library in May 2022 to become Content and Scholarly Communication Strategist at LYRASIS.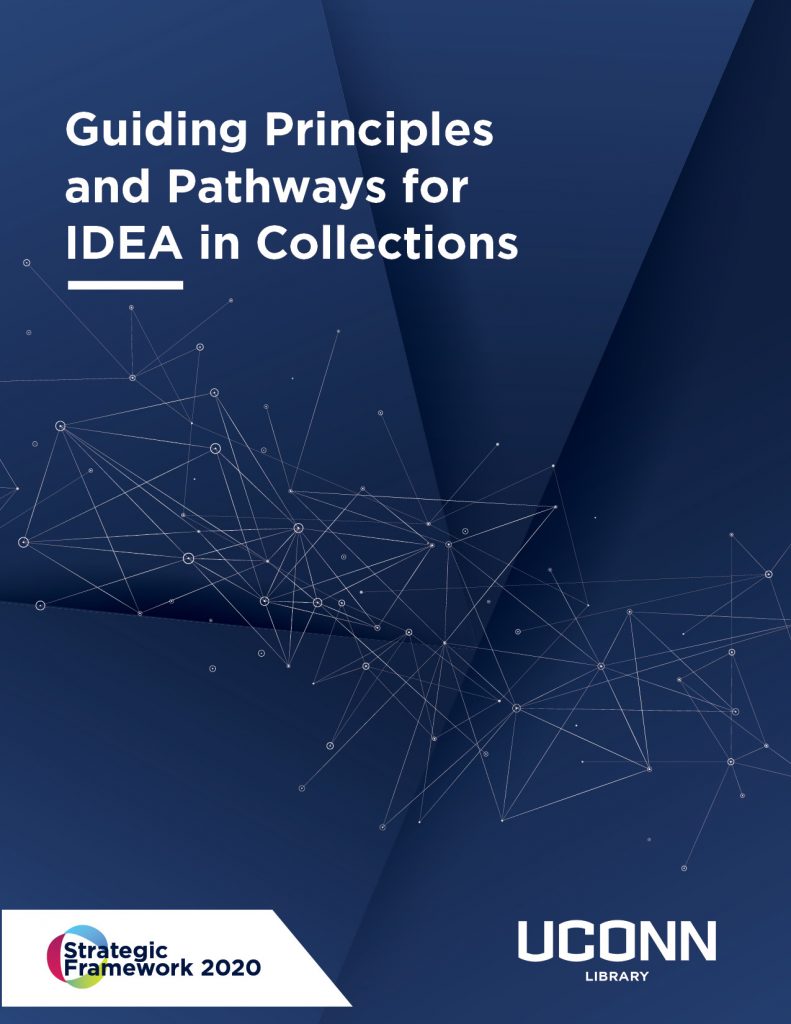 And a conversation about our collections is never complete without talking about our nationally recognized Archives & Special Collections. Our archives team documents the human experience through manuscripts, letters, photographs, maps, and so much more to help students, scholars, and the public learn from the past and understand the present. The archives team has been led by Rebecca Parmer since 2018 and in those four years she became an indispensable member of the UConn Library community through her leadership, vision and accomplishments. She was a strong advocate for ASC's instructional program, guiding efforts to develop and implement modular educational frameworks that brought excitement and enthusiasm for integrating primary source collections into the classroom. She was also deeply involved with Library initiatives including being a member of the UConn Library's Strategic Framework Steering Committee and then as a member and co-chair of the inaugural Implementation Team. She also co-chaired the IDEA in Collections Working Group, along with Michael Rodriguez and Rhonda Kauffman, to develop definitions, guiding principles, and recommended pathways for building inclusion, diversity, equity, and accessibility (IDEA) into all aspects of library collections management and development. Rebecca left the Library in May 2022 to join the Winterthur Museum, Garden and Library as the director of their research library.