Post written by Jean Nelson, Head of Communications & Engagement and Rebecca Parmer, Head of Archives & Special Collections
Groundbreaking in 1970, the "Black Experience in the Arts" course is part of UConn's history of employing education as a tool in understanding and eliminating racism. The materials from the class, which represent a broad range of scholarship in fine arts, education, and the humanities, will be preserved by Archives & Special Collections through a grant from the Council on Library and Information Resources (CLIR).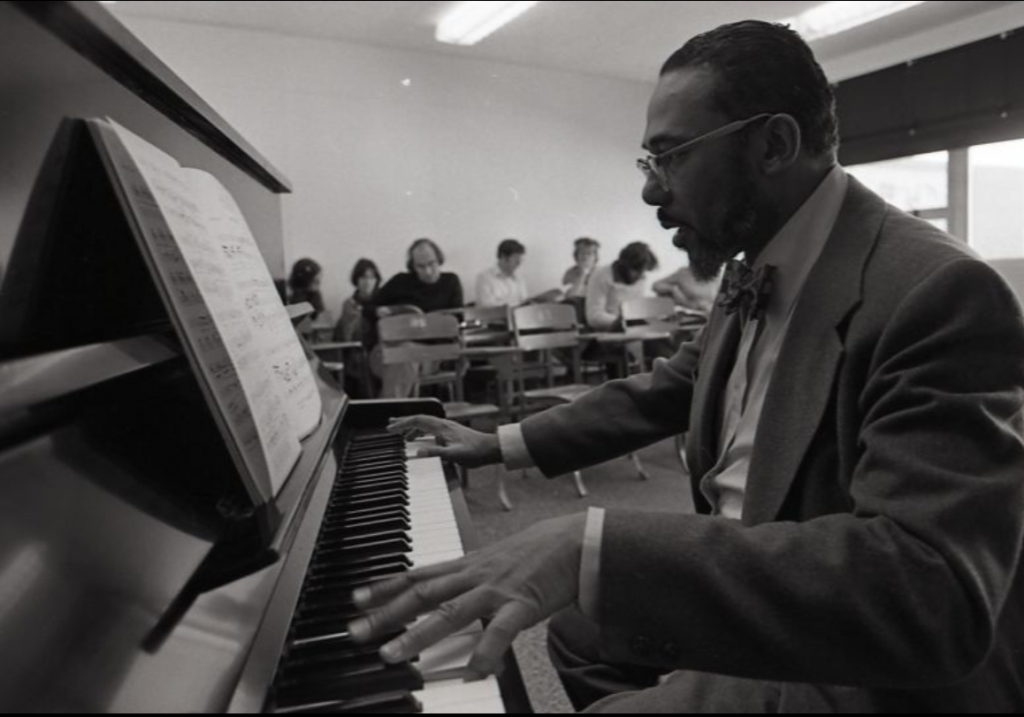 The "Turbulent Sixties" were felt at campuses across the country including here at home. On the night of October 9, 1969, tensions between Black and white1 students resulted in damage to the resident halls of Delta Chi fraternity house and Lancaster House. Shortly after, the Board of Trustees endorsed President Homer Babbidge's statement that UConn would not condone violence or racism of any kind, and called on him to prioritize the work of addressing pervasive racial inequalities and better meet the needs of an increasingly diverse student body through curricular and campus environment reform.2
Among the efforts to foster racial awareness, representation, and cultural exchange was the development of the course "Black Experience in the Arts" in 1970. Created by Floyd Bass, Director of the Center for Black Studies and faculty in the School of Fine Arts, including Edward O'Connor, Associate Dean of Fine Arts, and professors of music Hale Smith and James Eversole, the course brought Black artists, musicians, actors, writers, and others to UConn to discuss and demonstrate their work, and to participate in dialogue with students. The unique format of the course, with sessions delivered by a series of guest lecturers rather than a single instructor, was designed to draw greater awareness to the creativity and contributions of Black artists in all art forms and provide students with greater exposure to the racial and social dynamics in American culture.
More than 120 lectures and performances by Black artists were recorded as a part of the course, providing a cross-section of artistic practices and personal histories. Important voices can be found in areas such as the Black Arts cultural movement (poet and activist Jayne Cortez, playwright Ed Bullins, and Harlem Writers Guild figures Rosa Guy and Louise Meriwether), insights from artists who sought to use their art and creative expression to drive political and social change (African drummer Babatunde Olatunji, playwright Loften Mitchell, and writer and editor Orde Coombs), and insight into the creative process from MacArthur fellows (culture critic Stanley Crouch and author Paule Marshall) and recipients of national grants and prizes for literature, poetry, theater, and art (storyteller Brother Blue, actor Rawn Spearman, and composer Hakim Talib Rasul). For some speakers, these recordings offer the only known recorded representation of their perspectives and insights.
The recordings have broad appeal for scholars and curious listeners alike, providing insight into speakers' influences, creative processes, and artistic development. It is also an opportunity to understand the shifting racial, social, and political dynamics of the 1970s and 1980s on college campuses and in American culture, and how the classroom was used to foster cultural exchange through engagement and dialogue.
Part of a large archive transferred by Dean O'Connor to the Archives from the School of Fine Arts in 2015, the year-long project will digitize, preserve, and improve access to 243 sound recordings. This project is supported by a Recordings at Risk grant from the Council on Library and Information Resources (CLIR). The grant program is made possible by funding from The Andrew W. Mellon Foundation.
1 Capitalization of Black and white follows Associated Press guidance. 

2 Stave, B. M., & Burmeister, L. (2006). Red brick in the land of steady habits: creating the University of Connecticut, 1881-2006. University of Connecticut.