Original story written by Ken Best, published in UConn Today, 8/28/13.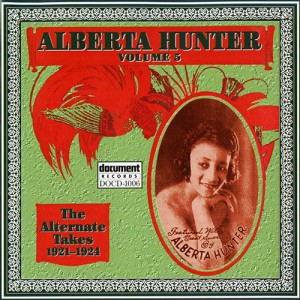 Asking musicians about the recordings that influenced their lives often results in the recounting of a story that begins with the discovery of an old record in a bin of LPs in a music store. Listening to the newly discovered sound, which may be an old recording of a long-forgotten performer, sets the discoverer on a musical journey that can lead to a new direction. When such random discoveries are linked over time, it can seem there's a guiding hand at work.
The chance meeting last year in Scotland of pioneering music historian Samuel Charters and Gary Atkinson, owner of the American roots music label Document Records, completed a decades-long common circle of another kind of musical journey apparently guided by destiny. It has resulted in a major addition to the Samuel and Ann Charters Archives of Blues and Vernacular African-American Musical Culture in Archives and Special Collections at UConn's Thomas J. Dodd Research Center.
Document Records has donated its catalog of nearly 25,000 recordings to the Charters Archives, including previously unreleased music and other audio media produced by the Edison Co. between 1914 and 1929. The label, based in England, specializes in early American blues, bluegrass, gospel, spirituals jazz, and other rural American genres, and recently began re-issuing vinyl recordings. The Charters Archives holds thousands of hours of recorded music on LP, 45 rpm and 78 rpm records, compact discs, audio cassettes, and reel-to-reel tapes, spanning the entire 20th century. The recordings begin with African-American spirituals, and include the ragtime of Scott Joplin, the blues of B.B. King and Robert Johnson, and rappers such as Snoop Dogg. The addition of the Document catalog helps complete the Charters Archive holdings of traditional blues recordings.
"As I've often said, the history of the blues is in the recordings, those 78s that were sold in crossroads general stores or sent through the mail to post office addresses everywhere in the South," says Charters, who traveled throughout the United States in the 1950s recording and producing blues musicians for Folkways Records, among other labels, and later wrote The Country Blues (Rinehart, 1959) and The Poetry of the Blues (Oak Publications, 1963).
"Some artists still are only a name on the record label," he adds. "What Document [Records] is doing by continuing to make available all of the blues and gospel recordings made by African-American artists from the first days of recordings in the 1890s to the 1940s and beyond, is to give us that history. I know there is much historical blues material online, but there is nothing to equal what is on our Document shelves. It's all [in the Archive], every artist you might have heard of, to hundreds you certainly never heard of, from every part of the South and the northern ghettos."
As a teenager growing up in England, Atkinson began to collect blues records. Some of the earliest records in Atkinson's collection were the Folkways recordings produced by Charters, who knew of the Document label and had bought its recordings while it was under the original ownership of Johnny Parth, who started the label in Austria in 1985.
"Amongst the first albums I bought were documentary albums compiled by Sam," says Atkinson of his early passion for collecting blues recordings. "They are the cornerstones of my collection. There is a twinge of excitement when you play them."
After taking over Document Records from Parth in 2000, Atkinson had some brief correspondence with Charters about the acquisition of the original Folkways recordings by the Document label. At the time, each was busy with several projects and said they intended to get back in touch with the other. The years passed.
Then last year Charters headed to Scotland, to meet his son, also named Sam, and daughter-in-law Heidi, who had been researching the Charters family history and learned of a churchyard in their ancestral homeland with a burial plot for the family. There are two Samuel Charters in his family background. One is a farmer's son who immigrated to the United States in the early 1800s, from whom the music historian is a direct descendant; and the other is a writer who lived near the farm, who published a literary book in 1794. Charters had been seeking a first edition copy of the book by his namesake for 40 years; he located it in southwest Scotland, not far from the ancestral Charters farm in a storage warehouse for used books, one of a cluster of rundown buildings on a narrow road.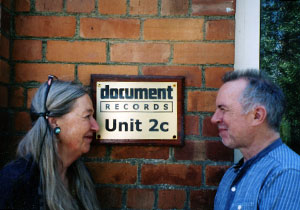 Gillian Rowe and Gary Atkinson, partners in
Document Records. (Photo courtesy of Gary Atkinson)
After securing the book, Charters and his son found Heidi chatting with a woman outside a nearby building with a small, nondescript sign reading: Document Records. The Charters had walked past the building, thinking it was a storage center for government records. After being introduced to Heidi's husband and father-in-law and learning that the older man wrote books, the woman asked his name.
"When I said Sam Charters, she slapped her hands to her face, swayed, and for a moment looked like she'd lose her balance," Charters says. "She managed to gasp out that the first book she bought as a young teenager was my 'The Poetry of the Blues' from 1963."
The woman was Gillian Rowe-Atkinson, and they were standing outside of the Document Records storage facility. She immediately took them inside to meet her husband, Gary Atkinson, who upon hearing the name of his unexpected visitor quickly scrambled out of his chair to shake the hand of the man who had produced the first record he had bought as a teenager, a 1957 recording of Blind Willie Johnson.
"It was crazy," Atkinson says of the chance meeting with Charters. "We've kept in touch and since then we've begun to work on a few projects. Sam and I are still shaking our heads about it to this day."
When Charters requested the entire Document catalog for inclusion in the Charters Archive, Atkinson did not hesitate. The catalog includes items such as a 1948 recording of Lead Belly performing at a private party in Minneapolis, a recording of the Tuskegee Institute Singers from 1914, and Norfolk Jazz & Jubilee Quartet's recordings from 1921 to 1940, as well as recordings by Blind Willie McTell, Sippie Wallace, Ma Rainey, Sister Rosetta Tharpe, Skip James, and other notable blues performers whose music influenced the development of contemporary music. The catalog also includes five volumes of the 12-volume set of more than 1,000 transcribed lyrics from the Document recordings compiled by music historian RR "Bob" McLeod. A search is underway for the missing volumes.
"When you are trying to acquire material for longtime preservation, you can't do any better than getting a collection than from a lifetime collector," says Kristin Eshelman, curator of multimedia collections at the Dodd Center, including the Charters Archive. "There's no way you can replicate that on your own, even with the resources of an institution. It means a lot when a man like Sam Charters has these connections in his own field. People know who he is. He can make his own connections for us. That's why we have the Document, Arhoolie, and Fantasy Records catalogs in our collection."
The Arhoolie Records label produces blues, Cajun, and other forms of roots music from the U.S. and other nations. Fantasy Records was an important label in the modern jazz era, moving into the rock era with Creedence Clearwater Revival, and then reissuing recordings of major performers such as Dave Brubeck, Chet Baker, and Gerry Mulligan. Both labels continue to produce recordings, including contemporary artists.
Charters and Atkinson are working on several endeavors, including the re-release of Charters' 1962 film simply titled, "The Blues," a significant but rarely seen film that is highly sought by blues scholars and fans. There are also field recordings from Charters' 1950s travels through the southern United States that have not been released in their complete form, as well as field recordings made in West Africa during the 1970s that Atkinson will produce to make available for the first time on the Document label.
As Atkinson continues to produce new recordings of early blues musicians that will add to the Charters Archive, another new partnership for Document Records is just beginning, one that will help pass the legacy of blues to future generations.
Document is partnering with Nashville-based Third Man Records, the independent label of guitarist Jack White, to release a new series of vinyl reissues of the complete recordings of the seminal blues musicians Charley Patton (Delta blues), Blind Willie McTell (Piedmont blues), and The Mississippi Sheiks (Country blues). Atkinson says that in his discussions with the musician and producer best known for his work with The White Stripes, White related the familiar story of discovering the blues.
"He told me enthusiastically the first albums he bought as a teenager was a bunch of Document albums. He didn't know who was on them but what he found on them was a life-changing experience. Until then he had only been listening to rock music," Atkinson says. "He decided if he was ever in the position to do it, he would produce vinyl."
Charters says he's gratified by the interest in the music he was among the first to document, noting that there is an increasing awareness of its importance in American culture.
"I'm pleased that so many people continue to discover this unique and powerful musical style," he says. "Many of them now understand that this music is also a vital creative expression of people who were denied any other real way to make themselves heard. That is what my work has always been about, and it's exciting to find other people picking it up and continuing to deepen and enlarge our understanding of what the blues means to the story of America."
Listen to Ma Rainey sing "Honey Where You Been So Long?"
Listen to Leadbelly sing "Old Black Cow."